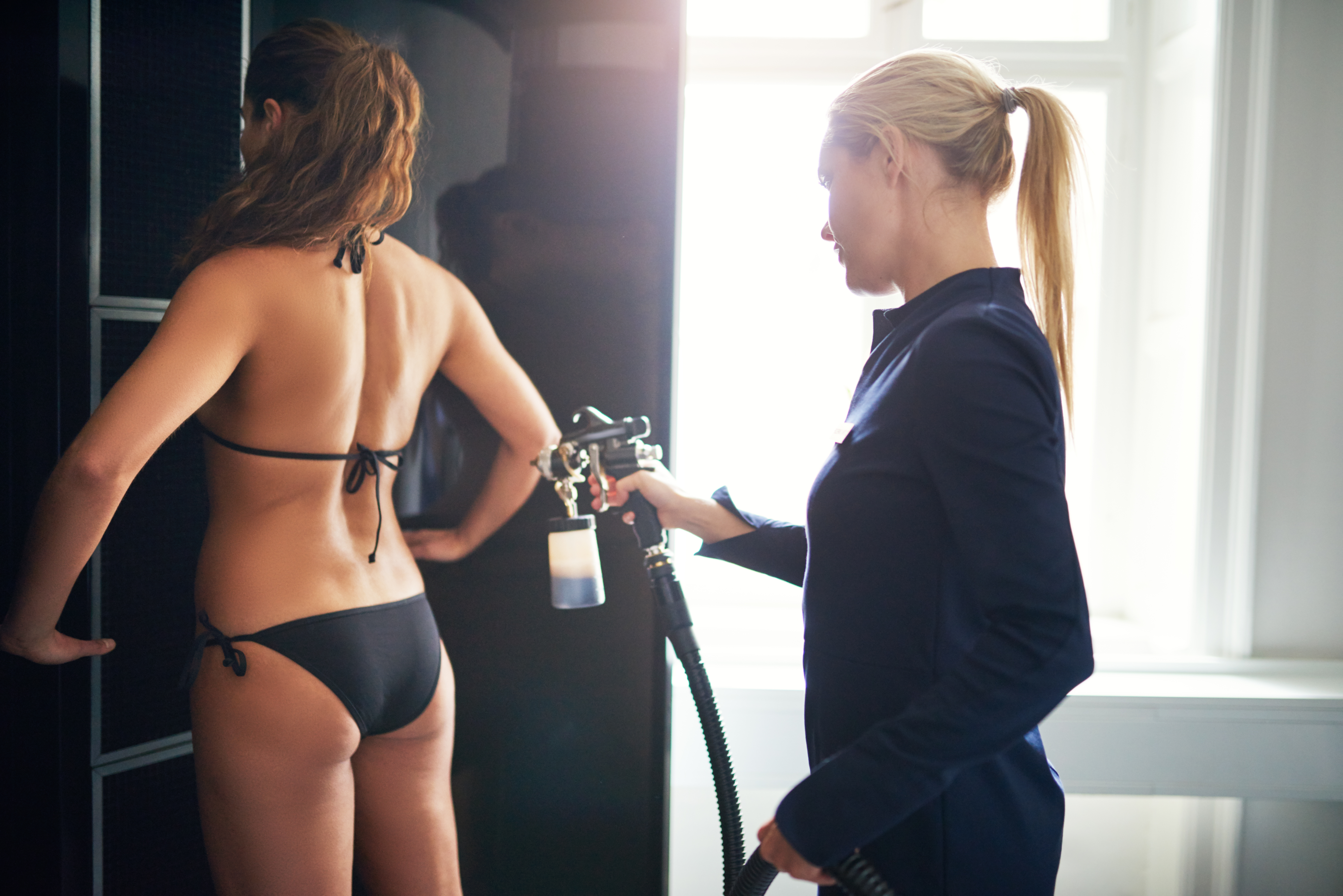 For many Americans, having a sun-kissed glow is an essential part of being young and beautiful. But while past generations used to think nothing of slathering their skin in oil and laying on the beach for hours, we're much more discerning about how we get our tans today. Although tanning beds are still a popular option, many people are turning to spray tanning to achieve the look they want. And yet, there's a lot of misinformation floating around about spray tanning services. In today's post, we'll be shedding light on some of the most popular misconceptions about spray tans you simply shouldn't believe.
MYTH: Sunless tans don't last as long as those obtained from tanning beds.
Truth: Although a naturally obtained tan can last for quite a while, you may also deal with sun damage. The airbrushed treatments you'll receive at the tanning salon won't come with that risk, which can be a major selling point for many people. But one frequently cited drawback of spray tans is how quickly they fade. It's true that spray tans can fade quickly — if they aren't applied properly or cared for as directed. Depending on how deep the shade of your airbrushed tan is, your treatment could last for 10 days or longer. By gently exfoliating the skin prior to your treatment, moisturizing both before and after your appointment, and waiting to shower for at least eight hours post-application, you can ensure that your tan will last.
MYTH: Spray tanning provides a less natural look.
Truth: You might be worried that a spray tan will give you an undesirable orange glow. These horror stories can occur when salons don't offer the highest quality products, when the technicians are inexperienced, or when customers are able to choose from shade ranges that simply won't complement their natural skin tones. To ensure your tan looks as natural as possible, you should err on the lighter side. Typically, trained technicians can advise you on the best shade to choose for your complexion — and you will never end up looking orange.
MYTH: The chemicals found in spray tanning solutions are dangerous.
Truth: Tanning gets a lot of flak, but the truth is that spray tanning is considered completely safe. In fact, the American Academy of Dermatology ranks the active ingredient in spray tanning products (which is dihydroxyacetone, or DHA) as a safe and effective ingredient that has been used in cosmetics for decades. Not only will DHA not dry out your skin, but it won't cause any long-term negative effects either. While you certainly need to be careful about getting too much direct sun exposure, spray tanning is truly the safest way to get a healthy glow.
Ready to increase your confidence and look like you just came back from vacation? Our tanning beds and airbrush tan treatments can take you to the next level. To learn more, please contact us today.